Vein-Gard Information / Vein-Gard Testimonials
What is Vein-Gard?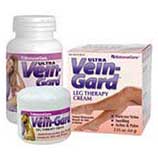 Vein-Gard is a revolutionary, new natural remedy that miraculously improves bulging, bluish, lumpy-looking varicose and "spider" veins; relieves tired, aching legs and feet; and swelling and itching of your legs. Vein-Gard begins to work immediately—from both the inside and the outside—for fast, noticeable results! Supported by the latest scientific research, Ultra Vein-Gard ™ helps guard against these leg problems by getting to the underlying cause of the condition before it starts. Vein-Gard is available in both a luxurious leg therapy cream for topical use, and preservative-free capsules that work from the inside out. Vein-Gard is the most complete, highest potency, and most effective varicose remedy available, and there are no synthetic drugs or side effects.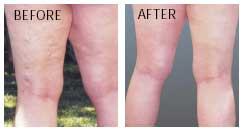 Active Homeopathic Ingredients in Vein-Gard
Horse Chestnut 3x, 6x, 3c, Witch Hazel 1x, 4x, 3c, Honeybee 3x, 6x, 12x, 30x, Wind Flower 3x, 6x, 30x, St.Mary's Thistle 3x, 6x, Club Moss 6x, 30x, Vegetable Charcoal 6x, 30x, Ergot 3x.
Other Ingredients of Vein-Gard
Aloe Vera, Horse Chestnut Seed Extract at 20% Escin, Butcher's Broom at 9-11% ruscogenin, Grape Seed Extract at 95% proanthocyidins, Gotu Kola Extract at 8-10% triterpenoids, Vitamin C, Vitamin E, Vitamin A, Rutin, Neem Oil, Tea Tree Oil, Quercetin, Bromelain, Lecithin, Ginger, and Cayenne.
No chemical additives, artificial colors, or preservatives.
Vein-Gard Testimonials
My Varicose Veins are More Than Half Gone
"I am writing to tell you how good Vein-Gard is... I am 58 and have had varicose veins in my left leg over 15 years. I started using both the caps and cream in December...my veins are more than half gone." - Warren W., Lebanon, OR
Vein-Gard Healed Leg Ulcers
"Our son had a deep vein thrombosis following a major surgery and has had problems with leg ulcers as the result. Your product [Vein-Gard] has healed his leg ulcers and keeps his leg tissue soft. In addition, it helps relieve the pain." - Pat H., Indiana, PA
It's the Only Thing that has Helped My Circulation
"I love your Vein-Gard! It's the only thing that has helped the circulation in my legs. And the veins are not as noticeable anymore." - Helen K., Encino, CA
This is the Only Thing that has Worked for Me
"I've tried everything to help my varicose veins and this is the only thing that has worked for me!" - Arlis C., Pacific Grove, CA
Relieves My Aching, Tired Legs
"Your Vein-Gard cream gives me immediate relief for my aching, tired legs and feet! It's the greatest product ever!" - Joanne H., Springville, UT
My Feet Feel Warm Now
"This is the first time my feet have felt warm in 10 years thanks to your Vein-Gard." - Patty J., Vista, CA
Shop for Vein-Gard and Vein-Gard Pricing